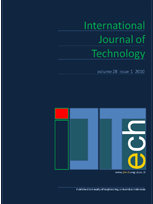 International Journal of Technology (IJTech) is bi-annual international referred journal with the objectives to explore, develop, and elucidate the knowledge of engineering design and technology, to keep practitioners and researchers informed on current issues and best practices, as well as serving as a platform for the exchange of ideas, knowledge, and expertise among technology researchers and practitioners.

International Journal of Technology provides an opportunity to share detailed insights from different understandings and practices associated with technology. It provides an international forum for cross-disciplinary exchange of insights and ideas regarding value and practices for dissemination. International Journal of Technology will publish your work to international society of practitioners and researchers with interest in technology design and development from a wide variety of sectors.
Publisher
:
Faculty of Engineering, Universitas Indonesia
Address
:
Engineering Center (EC) Building, 2nd Fl. Data Center. R.207. FTUI Depok 16424
Telephone/Fax
:
+62-21-78849072 / +62-21-7863506
Website
:
www.ijtech.eng.ui.ac.id

Email
:

ijtech@eng.ui.ac.id

or

ijtech.eng.ui@gmail.com



Manager
:
Dr. Mohammed Ali Berawi (Editor-in-Chief)

Status
:
undergoing accreditation by DIKTI

Announcements
Published Articles: New Publishing IJTech Journal Volume 5 Issue 1 January 2014

electronic version available online January 27, 2014
hardcopy version wil be available in the middle of February 2014

Posted: 2014-03-04

This work is licensed under a
Creative Commons Attribution 3.0 License
.
ISSN: 2087-2100